Meet Multiple
Award-Winning
Broker Niki Higgins

- Douglas Elliman/Knight Frank Residential Global Agent
- Douglas Elliman's Executive Director of Luxury Sales in South Florida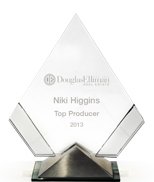 - The #1 Top Producing Agent in Fort Lauderdale for Douglas Elliman Florida, Company-Wide the last 5 years in a row
- Multiple Top-Producing Agent Awards for Douglas Elliman Florida, Company-Wide
- Multiple Recipient of the Douglas Elliman Pinnacle Award for Excellence
"Niki Higgins is one of the most professional, conscientious and reliable brokers in South Florida. She works relentlessly for her clients. Niki will do the right thing for her client(s) and their property. We have worked with Niki for more then 10 years, and would gladly refer her to the harshest of clients/critics. In South Florida there is no better real estate broker than Niki Higgins."

The DiMucci Family
After having worked with many agents over the years, I can say with confidence that Niki is one of two best agents we have ever worked with. She took the time to really understand what we were looking for and patiently steered us through the process of understanding different neighborhoods and how they related to our needs. Niki also did an outstanding job of negotiating and completing the transaction. Hence,when we finally settled on a purchase in the West Palm Beach area, we instinctively knew it was the right decision. We look [...]
Niki was the realtor who sold me a beachfront condo in The Palms in Ft Lauderdale. I had a job change that required me to sell the unit within two years, and Niki was also the agent for the sale. In having her represent me as both the buyer and seller, she was equally superior at both. She has an extensive knowledge of the Miami/Ft Lauderdale/Palm Beach market, and is a fantastic negotiator whether you are buying or selling. I would highly recommend Niki as experienced realtor who goes the extra mile for her clients.
Joan [...]
After having a disastrous experience with another broker, we were referred to Niki and it was truly one of those "died and gone to heaven" experiences. She and her staff were wonderful to work, from the planning for our initial viewings to the follow up required to get to "close" and beyond. Niki is very straight forward in every way. She knows the Fort Lauderdale market extremely well, and has a great sense of its history and its future market conditions. She also asked a lot of great questions about our [...]
"My wife and I worked with Niki Higgins of Seaside Properties Group at Douglas Elliman last winter and spring. Niki took plenty of time to understand the type of apartment we were looking for, and then culled a list of ten properties, each of which had many of the attributes we sought. When we got down to Florida after a few months of looking at apartments on the web, she took plenty of time to walk us through each apartment, and over the course of five days we narrowed the original list down to one--a result of several visits to [...]
We highly recommend Niki as being one of the most ethical, industriously, motivated and hardest working agents we have ever hired or even encountered. Thank you so much Niki---We deeply appreci ate your hard work on our behalf. My husband and I have worked with numerous real estate agents in the past. She knows all the ins and outs of the home selling/buying process and does a great job marketing her properties. She is very professional, competent and personable. She listens, cares and will be with you every step of the way whether you [...]
"Buying property can be a daunting experience. Buying a second home in a far away state is even more challenging. It's imperative that the realtor you chose have a strong connection to the area and a vast network of trustworthy professionals to call on before, during and after the purchase. John and Niki of Seaside Properties Group at Douglas Elliman have it all covered. They live where they sell and know the market from all angles. They've developed valuable relationships through their combined years of experience which [...]
"We had the good fortune of having Niki work with us as both buyers and sellers. We purchased two properties as a result of their careful and tireless attention to our needs and desires and successfully sold a wonderful property with their guidance and enthusiasm. In these complicated economic times, they went beyond the call of duty to make the process work from beginning to end; calling on their vast and deep resources and knowledge of the market and steering us in the right direction with an eye toward the future."
[...]
Niki Higgins has been my go-to real estate professional for four transactions in Fort Lauderdale's luxury market. Two purchases and two sales later, I can recommend Niki whole-heartedly. She works tirelessly for the best possible outcomes, always with her client's best interests in sight.
Read More Client Testimonials
---
Niki Higgins is known as the "go-to" agent for luxury oceanfront, waterfront and seaside real estate in South Florida. Throughout her highly successful career, Niki has exceeded over $1 billion in real estate transactions and has closed numerous record-breaking deals throughout South Florida. She is a consistent leader in the industry, with a reputation for tenaciously protecting her clients' interests. Concentrating her efforts on the luxury real estate market from Miami Beach to Palm Beach, Niki Higgins has established a highly impressive resume of multimillion-dollar waterfront home and condo sales. Additionally, her remarkable business acumen has been lauded in numerous high-profile real estate publications.
Niki's experience, expertise, uncompromising integrity and cutting-edge marketing strategies have kept her at the forefront of the South Florida luxury real estate community for over 15 years. She is well-respected in the industry, not only for her unparalleled professional track record, but also for her honesty and exceptional work ethic. Niki's comprehensive real estate knowledge and dedication to her clients has consistently earned her Top Producer honors and also awarded her Douglas Elliman Florida's prestigious #2 top-producing agent company-wide for 2013, 2014 and 2015.
Niki Higgins originally established Seaside Properties Group in 2000 to fill a much-needed void in the South Florida real estate community for a specialist in luxury waterfront and seaside properties covering Miami Beach to Palm Beach. After quickly becoming one of the area's preeminent real estate brokerages, Seaside Properties Group was acquired by Douglas Elliman in October 2012. Prior to her success in Florida, Niki sold exclusive Manhattan properties for Douglas Elliman. Niki's clients had very specific goals and requirements, and Niki became an expert at finding the absolute perfect property for a very privileged few – a skill she undoubtedly still possesses today.
Within the highly competitive luxury real estate market, Niki Higgins continues to set sales records and consistently provide her clients with the outstanding level of knowledge and service that has made her one of South Florida's premier elite agents. Whether buying or selling, Niki understands the process completely and focuses her efforts on taking the pressure off her clients, allowing them the freedom to make the best decisions possible to suit their needs.